North London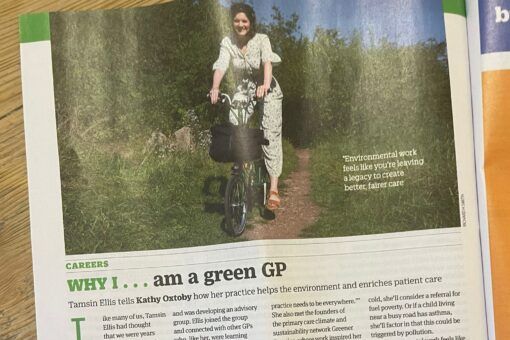 Greener Practice North London is a community of healthcare workers brought together by our principle aim to make local primary care systems more environmentally sustainable. We meet every 6 weeks and also have an active WhatsApp group to share ideas, resources and learn from each other. We also work closely with the South London group and often have shared meetings. We hope to cultivate an inclusive and innovative environment for anyone interested in this field with absolutely no prior experience or minimum level of engagement required.
If you would like to find out more, please either fill out this form to join or don't hesitate to contact us at greenerpracticenorthlondon@gmail.com.
Co-Chair: Sarah Yamamoto
Sarah is a GP working in North London and co-chair of the North London Greener Practice group. Her practice has been awarded the Green Impact for Health Silver Award and she hopes to continue this great work by leading 'clean air champion' and greener prescribing QI projects. She is also studying a post-graduate degree in 'healthcare in practice' to develop leadership and research skills in the field of sustainable healthcare.
Co-Chair: Sophie von Heimendahl
Sophie is a salaried GP in Tower Hamlets, East London and co-chair of the Greener Practice North London group with Sarah. She is particularly interested in helping practices improve their carbon footprint and is currently working to upgrade her practice's 'Green Impact Award' from bronze to silver. Outside of work, she can often be found on her bike and is eager for others to give cycling a go too.
Local borough networks
We are starting borough-specific networks to allow you to collaborate with colleagues in your own borough more easily. We're hoping that this will encourage local ideas and initiatives to flourish. These are the networks that have been established so far:
If you would like to join any of our borough networks or would like us to support you in reaching out to other colleagues in your borough to set up your own borough network, please don't hesitate to contact us at greenerpracticenorthlondon@gmail.com.
Climate actions
Here's a snapshot of some of the things our members have been up to. Come join us to find out more and get involved!