Chair: Dr Kath Brown
Kath is a GP partner and the sustainability lead for Cornwall primary care.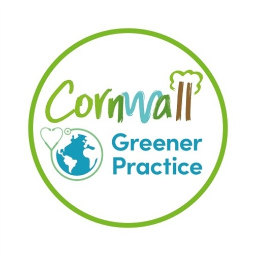 Greener Practice Cornwall consists of a green champion for each PcN along with representatives from LMC, CCG, prescribing team, a trainee and patient rep. Our aim is to learn from each other and disseminate sustainable healthcare advice to practice level. We work closely with our partners in secondary care, Cornwall council and the voluntary sector. We ask all practices to sign up to the GIFH toolkit.
Cornwall in contrast to what the tourists see has deep pockets of deprivation and despite our beautiful coastline , areas of poor air quality. We aim to show how improving our patients health is not only good for them but also to the planet and want everyone to be able to enjoy and protect the incredible biodiversity Cornwall has to offer.
You can contact us via Twitter @GreenGpCornwall or email the chair katherine.brown12@nhs.net
Primary Care Climate Resilience Programme
Nov 22  Health and Climate Skills Lab Special Edition
Below are some posters, including pieces from the Fairer, Greener, Bolder Healthcare campaign that you may want to put up in your practice.
16: Breathing clean, breathing easy
26: Fighting period poverty and plastic pollution
29: Community connections and active travel