Active travel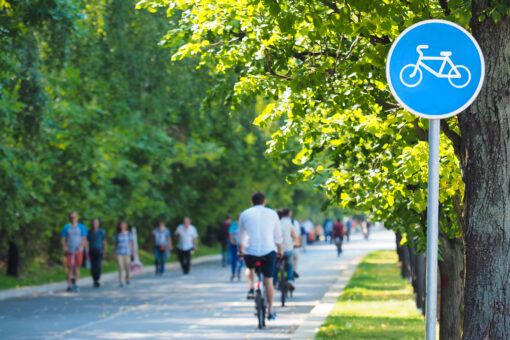 After prescribing active travel is the next big carbon hotspot for primary care. Supporting staff and patients (if appropriate) to walk or cycle to the surgery instead of driving, is a major way of reducing the practice's carbon footprint and helping to improve the local air quality. You can find guidance for employers on the Cycle to Work Scheme. To make it easier for you to sign up, we have created simplified guides for employers and employees. Further information regarding the Green Commute Initiative which offers a cycle to work scheme with no £1000 limit can be found here.
Cycling is a highly energy-efficient mode of transport and often the quickest way to commute to work. Self-powered bicycles improve fitness very quickly and provide a good level of physical activity per mile. Self-powered bicycles are easy to ride and maintain. A Leeds study in 2018, reported in The Guardian, showed that on the same journey cyclists are exposed to less air pollution than car drivers, bus passengers or pedestrians. Designated cycle lanes improve this further by increasing the distance between cyclists and vehicles.
Some GPs have found E-bikes to be an excellent solution for commuting and home visits. E-bikes are 5 times more powerful, and 67% faster, than a non-powered bicycle. Many e-bikers find that they increasingly use their e-bikes instead of using their cars, thus increasing their health and fitness whilst reducing their carbon footprint.
Many regions have committed to building infrastructure rapidly in response to Covid and government resourcing, to support safer cycling. If you are not confident about cycling on the roads, there are often local organisations provide free cycle confidence lessons to people.