Reducing waste in health care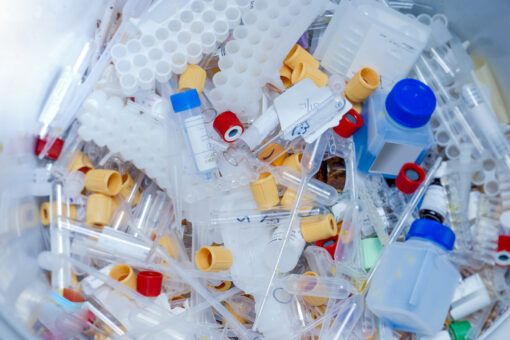 Care Without Carbon provides useful information about reducing waste in the NHS. It is recognised by the NHS as a best practice approach for creating a Sustainable Development Management Plan. They have useful information about reducing waste in the NHS.
PrescQIPP have some useful bulletins and examples of waste reduction strategies in health care.
PPE and single use plastics
Healthcare Without Harm have produced a webinar on the reduction of Single Use Plastics in the NHS. Re-usable PPE is a work in progress after Covid-19.
The Great Ormond Street "Gloves Off " Campaign was very successful in reducing unnecessary glove use at the hospital.
Sharpsmart provide sharps bins that are reusable and have the added benefit of reducing sharps accidents.
Waste disposal
Please see the take action 'do' section for waste disposal posters, as a reminder of how to dispose of medical waste at the lowest carbon, and financial, cost.
Medicines and medicines packaging
We are finding that many prescriptions, intended to be for as required use, are ordered regularly every month. This practice needs to be addressed, both for patient safety and to reduce the carbon footprint and financial cost to the NHS. See our section on Prescribing and Deprescribing.
It's also worth considering whether there is a lower carbon alternative to certain prescribing options, depending on how the medication is packaged. For example, vagifem has multiple applicators in the pack, whereas Vagirux has a reusable applicator and is no more expensive. Milex ring pessaries are reusable for up to 3 years, saving patients prescription costs, the NHS money, and reducing the environmental burden of plastics wastage.
Blister packs can be recycled with Terracycle, although the scheme is under threat of closure, so please check their website.
We are also keen to look at ways of overcoming the perceived infection control concerns about reusable monitored dosage systems. If you are aware of any innovations that could help us all return to reusable packaging, please email us at greenerpractice@gmail.com.
Medical instruments
We are keen to engage innovators with schemes to reduce single use plastic and other materials in General Practice. Steel has a huge carbon cost and we urgently need to find better options than single use steel instruments. You might wish to contact your local commissioning group to see if they would consider linking in with existing hospital sterilisation services to deliver a scheme to primary care.
In an article published in the Royal College of Surgeons it argues that the use of single use instruments is not evidence based, and is driven by an industry for whom the gains in this approach are unquestionable.
Donating medical equipment, medication and BNF's
There are charities in Nottingham and Leicestershire that will take any unused instruments from single use instrument packs (such as coil packs or minor ops packs) and ship them to Gambian hospitals where resources are scarce. They will also take medications with more than 6 months to run until expiry. Unwanted medical equipment and BNFs may also be accepted by these charities.
PharmAid is a charitable initiative that supplies recent medicines information such as BNFs to pharmacists that need them around the Commonwealth, ensuring they have access to the latest information on prescribing and pharmacology.
Reducing BNF paper copy orders
Now that the BNF is online, many clinicians no longer use paper copies. If you would like to reduce the number of BNF paper copies ordered to your practice, and you are employed by an NHS trust, contact your chief pharmacist who is responsible for distributing BNF within a trust. If employed by a social enterprise, community interest company or private company commissioned to provide NHS services, contact:
In England: (0)1268 495 609 or email: bnf@wilmingtonhealthcare.com
In Scotland, email: nss.psd-bnf@nhs.scot
In Wales, email nwssp-primarycareservices@wales.nhs.uk
In Northern Ireland: contact the Business Services Organisation
Medical equipment repair
Calibrate-UK provide a wide range of repairs of medical equipment.
If you want to keep down the costs of buying medical equipment, and help the environment at the same time, Seal Medical sell some reconditioned medical equipment at reduced cost.
Receiving or donating old office equipment
If you have old office equipment, or many other goods, that you want to get rid of, or if you want second hand office equipment, Warp It may be able to help. This is a subscription based service so it may be worth looking into whether your local organisation would sign up, to reduce financial and environmental costs to your organisation as a whole – it is more cost effective to do this at scale. UK Charities can join for free.
Recycling collections
When reducing or reusing isn't possible, recycling has a part to play in reducing the carbon footprint of the NHS.
Medicines packaging can be recycled via Terracycle. Find your nearest participating pharmacist on this interactive map.
Doorstep Recycling
Depending on the local arrangements with your council, many small businesses have to pay for doorstep recycling services, which acts as an unfortunate disincentive to appropriate recycling. You might wish to consider paying for cardboard and paper recycling, as much cardboard waste is generated by goods deliveries in primary care. You could consider setting up recycling bins and taking turns to take non-contaminated plastic, aluminium and glass recycling home.