18th June 2022
Start up Green Practice in Japan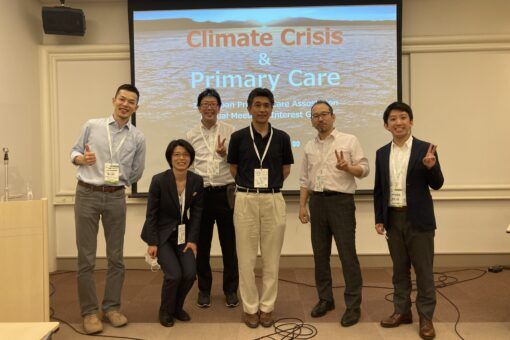 Hi!! I'm a family physician in Japan. I found the web page 'Greener Practice' from Facebook in 2020 by chance. I seek healthcare people who take action on climate change, I couldn't find them in Japan. So I read the web page 'Greener Practice' and took an online lesson of Introduction to sustainable healthcare, took a workshop of Sustainable primary care (but I'm not a good English speaker.). In the workshop, I studied many problems between climate change and healthcare and I made a Facebook page 'Sustainable Climate Healthcare Japan. (https://www.facebook.com/SustainableClimateHealthcareJapan) Supported by Dr Tamsin and Dr Matt and other doctors, I gathered the members taking an action with me by posting a mailing list of Japan Primary Care Association (JPCA). Our workshops 'Climate change & Primary care' were adopted by the seminar for the senior resident in winter and at a JPCA annual meeting in June, the seminar for students and junior residents in summer.
And we made a web page 'Green Practice Japan' (https://greenpractice-jp.studio.site/) for healthcare staff and citizens, referring to your page 'Greener Practice'.
Now, because only Nagasaki University has a curriculum about planetary health in Japanese medical universities, I'm teaching students and stuff in my Shiga Medical University, to be a curriculum in future.
With each study and activities, our member is increasing to 8 primary care physicians who take actions with me, so I'm very happy. But Japan is late about Net Zero in Government and healthcare service. We make actions to be better in future with your 'Greener Practice'.
Takafumi Sasaki