Tackling inequality -Core20PLUS5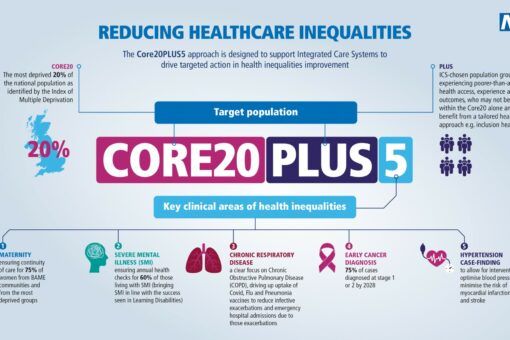 Core20PLUS5 is a national NHS England and NHS Improvement approach to support the reduction of health inequalities at both national and system level.
Launched in 2021, the approach defines a target population cohort – the 'Core20PLUS' – and identifies '5' focus clinical areas requiring accelerated improvement.
'Core20'
The most deprived 20% of the national population as identified by the national Index of Multiple Deprivation (IMD). The IMD has seven domains with indicators accounting for a wide range of social determinants of health.
'PLUS'
Regional population groups experiencing poorer than average health, but not captured in the 'Core20' alone.
Inclusion health groups include: ethnic minority communities, coastal communities, people with multi-morbidities, protected characteristic groups, people experiencing homelessness, drug and alcohol dependence, vulnerable migrants, Gypsy, Roma and Traveller communities, sex workers, people in contact with the justice system, victims of modern slavery and other socially excluded groups.
'5'
The final part sets out five clinical areas of focus.
Maternity
Severe mental illness
Chronic respiratory disease
Early cancer diagnosis
Hypertension case-finding
Climate change impacts will most harshly affect the disadvantaged patient groups identified by 'Core20PLUS', as well as impacting on all five clinical areas. This highlights what is called the 'intersectionality' of these issues, and therefore tackling these problems is most effectively and sustainably done in conjunction.
In combination with the NHS net zero aims, this initiative will form a new bedrock for the provision of care, creating standards which are both equitable and sustainable.
With thanks to Farah Bede for content for this section.